A National Day like no other in Megève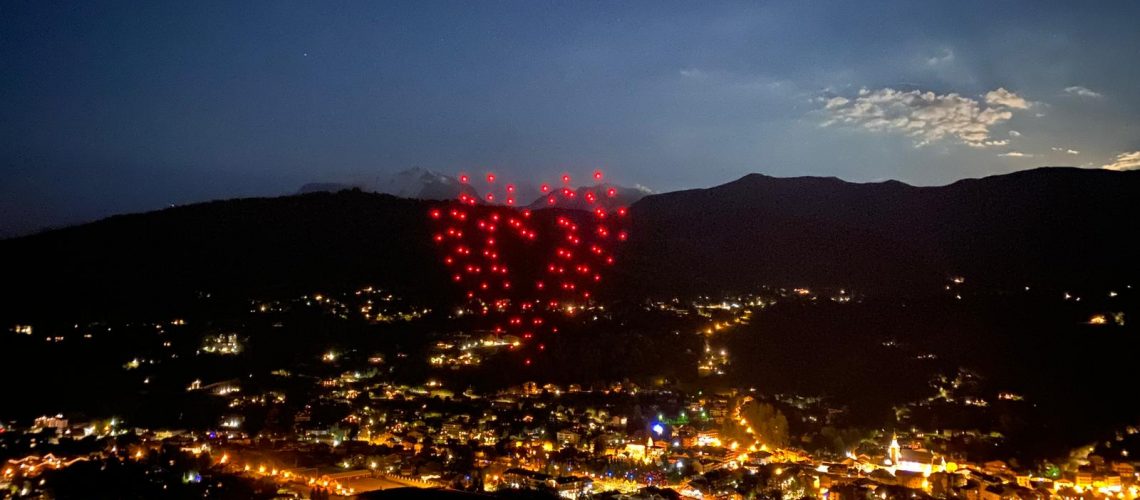 A national holiday like no other in Megève!
This year, Megève wanted to innovate on the occasion of the National Day on July 14.
This prestigious resort located in Haute-Savoie therefore called on Allumee to impress its summer clientele. Megève wanted to keep its traditional habits for the annual event while innovating and offering an original show to holidaymakers and residents of this renowned resort. 
Traditions and innovations in Haute-Savoie
In Megève, it is customary on July 14 to organize a parade of lanterns and enjoy sweet melodies played by the Harmony Orchestra of Megève. Once again this year, residents and holidaymakers present in the resort could therefore take advantage of it. However, Megève did not want to stop there by offering everyone an environmental and original fireworks display thanks to our luminous drones.
Organization and Adaptation: Allumee is there!
July 13 had arrived. Date of the show. Allumee was preparing to offer spectators a sound & light show made up of 100 drones for a 17-minute performance. For the first time, Allumee had to install everything necessary for the upcoming night show in a particularly difficult context. The show on the occasion of the National Day took place on the mountainside. 
We carefully prepared our show and adapted to the context. The show started after dark in front of 2,500 delighted spectators. This ski resort experience was a success and we will be happy to do it again in Megève or elsewhere.
Allumee ready to go back to the mountains 
Now that we have proven that we can adapt to all your constraints, we would be delighted to travel to other mountainsides to bring you our light drone shows. Do you live in the mountains? Don't hesitate to talk about it with the members of your Municipal Council. In the meantime, we would like to thank the municipality of Megève for its interest and for trusting us for this unusual experience.