Drone festival in the Allier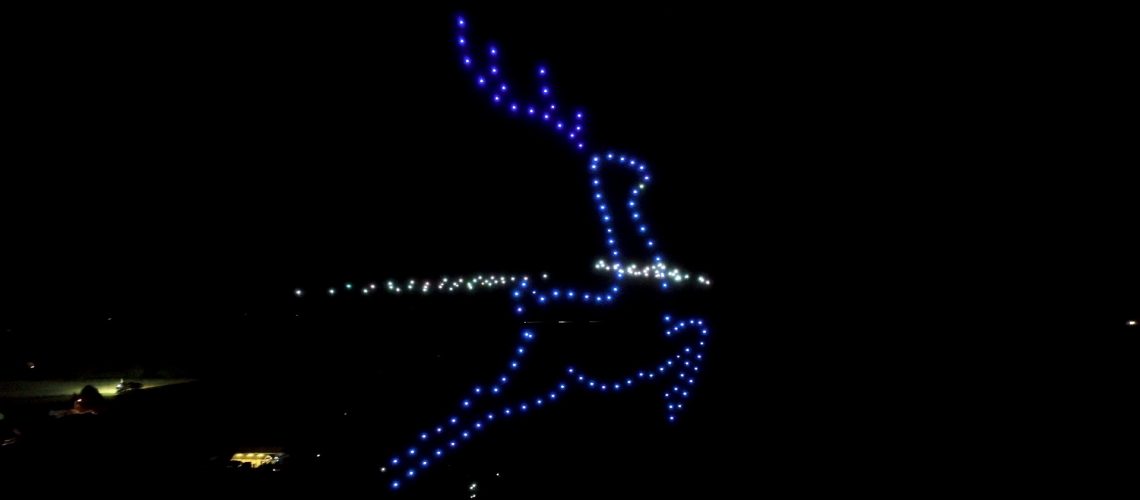 The Allier department organized the "Bourdonner en Bourbonnais" festival throughout the 2022 summer season. For the occasion, the president of the Departmental Council asked us to participate in this festival by producing a drone show specially designed for the occasion. , and this, during performances in different municipalities.
Our drones inaugurate the festival in Vieure
It is in the town of Vieure on July 9, 2022 that Allumee begins this summer tour in the Allier department. The communities have planned to install us around the body of water of the municipality so that our drones can do their show above the water, once night has fallen. 
This 1st show in the Allier is an opportunity for us to collaborate with Soirs de Fête, experts in pyrotechnics, in order to offer the public present an extraordinary show combining the magic of luminous drones with the traditional fire artifice. Our 200 drones were able to amaze young and old alike for 17 minutes in the sky.
To tell you the truth, we expected to receive more or less 1500 spectators; no less than 3500 people were present around the lake of Vieure.
Drones and pyrotechnics: A first for Allumee
Not only was it our first performance of drones at this Bourbonnais festival, but this show associated with pyrotechnics turned out to be much more technical than usual. This was a great source of additional stress for the Allumee team. Fortunately, the weather and the sky of the Allier offered us ideal conditions to welcome our drones in the air and everything went wonderfully well. 
The Allier department was worthily represented in the sky by typical elements of the region, thanks to a tailor-made design carried out by the Allumee team. We are very proud to have been able to materialize the project of the Allier Departmental Council which wanted to demonstrate that it is not because we occupy the countryside that we cannot take advantage of the latest technologies.
Our drones offer you magic
This type of show requires about a month and a half of work upstream. Each project is unique and thought out down to the smallest detail according to your requests and expectations. It is for us a real satisfaction to see the result as well as the wonder of the public during each of our light drone shows. 
The final touch of Allumee: creating a musical composition especially for each occasion. The music participates fully in the emotion that emanates from the crowd during each performance. 
Allumee was therefore very proud of the performance produced in collaboration with the pyrotechnics team that evening. It was really one of our greatest successes, certainly thanks to an innovative idea that was out of the ordinary and that we succeeded in bringing to fruition brilliantly.